How will Brexit affect travelling with your pet?
What does the latest Brexit news mean if you're planning on taking your pet on holiday? Get everything you'll need to know to travel with your pet after Britain leaves the EU.
Once the UK leaves the European Union at the end of January, many things are due to change. If you're a business owner who trades on the continent or whether you're a holidaymaker concerned about how your summer plans are going to be affected, many of us have been left confused about just how much of our day-to-day lives will change after Brexit.
If you're a pet owner, this is no different.
Travelling to Europe will be changing once Britain leaves the EU. While some changes will be small, travelling with your pets may become more complicated. Find out how taking your pet abroad will change and get some helpful advice before you head away with your cat or dog right here.
How many people take their pets on holiday to Europe?
As pet owners, it's hard to be away from your cat or dog for any length of time. We all love a holiday; some time to get away from the hustle and bustle and relax for a while. However, for many pet owners the best way to relax is when your pet is by your side.
Accurate numbers of just how many Brits travel abroad with their pets are hard to come by. However, two months after the Brexit referendum and the decision to leave the EU, Magnus Aviation – a private jet charter – estimated that almost 12,000 pets were jetting around Europe in style.
The study found that 1,580 of these flights were made by cats and dogs from the UK.
Many of the UK's cats and dogs are also frequent ferry travellers. Compared to flights where your pets might have to be stored in the hold - or aren't even allowed to board at all depending on your airline – pets are allowed to curl up in the comfort of your own car when travelling by ferry. This makes it particularly easy for people to cross the Channel with their pets to countries such as France, of which over 8 million Brits did in 2018.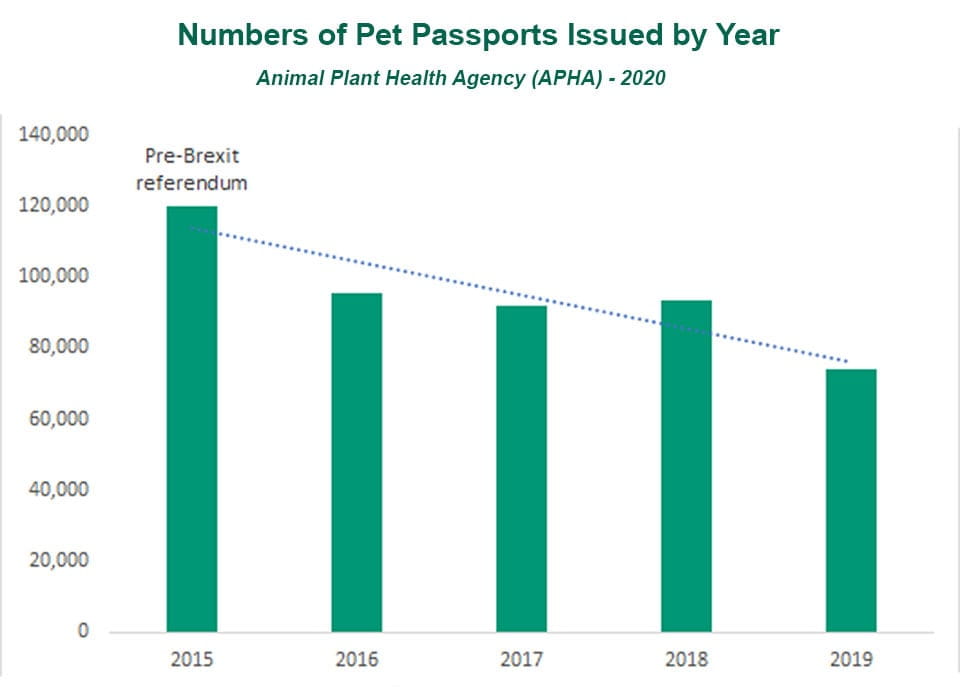 Official figures have revealed that the number of pet passports issued in the UK has dropped since the Brexit referendum
What could happen to pet travel after Brexit?
As it stands, once Britain leaves the European Union, you'll no longer be able to use the existing pet passport scheme. The pet passport scheme exists to allow safe travel for cats and dogs across Europe and the UK. As part of the existing Pet Travel Scheme (or PETS), both cats and dogs can travel between Britain and the EU without the need for quarantine.
In the event of a no-deal Brexit, you'll need to do the following before you're allowed to travel to Europe with your pet:
• Microchip your cat or dog if they aren't already.
• Vaccinate them against rabies.
• Obtain a blood sample from your cat or dog at least 30 days after their rabies vaccination (this could be after their rabies booster or initial vaccination).
• Your pet's blood sample will need to be sent to an EU-approved blood testing laboratory. There are currently two in the UK.
• You'll then have to wait 3 months before you can travel with your pet.
• Your vet should then provide you with a copy of your pet's blood results and an Animal Health Certificate – you'll need to get this at least 10 days before you plan to travel.
From start-to-finish, the process of getting your cat or dog travel-ready should take around 4 months.
Once your pet is given the all-clear to travel, you'll need to display the following once you arrive into Europe from Britain:
• Proof of microchip.
• Proof of rabies vaccination.
• Successful blood tests.
• Animal Health Certificate.
• Proof of tapeworm treatment (if needed).
Keep in mind that as things stand, you'll need a new health certificate (AHC) for each repeat trip to EU countries!
How are guide dogs affected by Brexit?
If you own a guide dog or an assistance dog and have a trip in the not-so-distant future coming up, then the rules for travelling with them are slightly different. Your guide dog plays a vital role in your daily life, so it's important that they're looked after and able to accompany you as you travel. Providing your guide dog meets the above criteria for safe travelling, the UK government has produced a handy checklist of approved travel providers who accommodate guide dogs, split by:
• Airlines and airports
• Ferry companies and ports
• Rail companies and stations
Make sure to check with your travel company before you book your European getaway. Not all airlines and travel providers accept guide dogs and you could be held up if you travel via a different route.
Will you get a refund if your flight is cancelled after Brexit?
After January 31st and up until the end of the year, the UK is expected to enter what is known as a 'transition period'. This means that flights to and from the EU should operate as normal!
Last year, some airlines began to put measures in place to cancel flights and avoid facing any liability, but these were said to be in preparation for a 'worst-case scenario'.
Brexit will not affect your rights as a consumer, so check with your airline whether they accept pets on-board and what their policy is regarding compensation for cancelled flights just in case.
Is travelling by ferry affected by Brexit?
If you've got a holiday home in France and are looking to take your cat or dog along by ferry, you shouldn't need to worry. The government have announced that ferry services will continue to be protected by law after Brexit.
You will however need to be aware of the changes in regulation that may come into place as a result of a no-deal Brexit. Currently, a UK driving licence permits you to drive in all EU countries, but after January 31st, you are likely to need an International Driving Permit – or two – to drive in Europe. As different countries are signed to different conventions, if you're driving through both France and Spain you will need to obtain both the 1949 (Spain) and 1968 (France) driving permits. These permits are available to purchase from selected Post Offices and should cost £5.50 each.
Check your passport
It can be difficult to keep up with the latest goings-on regarding Brexit and the potential changes surrounding it. We don't blame you if you've been more than a little confused.
But while you're trying to keep up with the latest regulations with your pet's passport, guess what? Don't forget to check your own! The government has said that anyone travelling to Europe after Brexit needs have at least six months remaining on their passport after their date of arrival, just to be safe.