Keep your pet calm during fireworks with the help of Classic FM
Classic FM brings back their pet-friendly show over Bonfire Night
Classic FM are broadcasting Pet Classics, a pet-friendly programme designed to help pets stay calm during the fireworks. The first of two shows will be live on Saturday November 4th from 5pm, with the second show live on Bonfire Night (November 5th).
Pet Classics will be hosted by presenter and dog-owner Charlotte Hawkins and will be playing soothing music to help calm anxious animals. According to the RSPCA, almost two-thirds of pet owners (63%) claim that their pet shows signs of distress during firework season.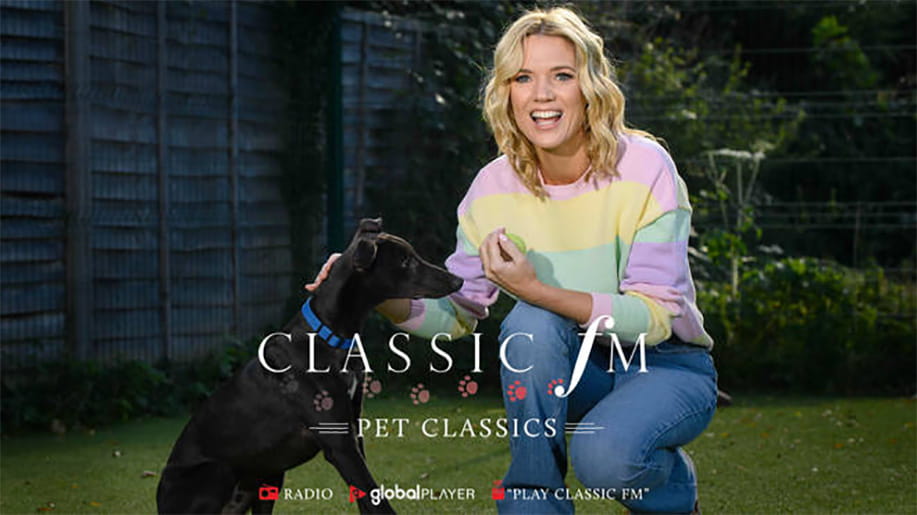 Classic FM's Pet Classics with presenter Charlotte Hawkins. Image: Classic FM
How can I tune in?
You can tune into Classic FM on 100-102 FM, DAB digital radio and TV! You can also catch the pet-friendly shows on your smart speaker, Global Player and at www.classicfm.com
How can I calm my dog down from fireworks?
Many pets are frightened of fireworks. While Bonfire Night is a cause of celebration for many people, it's not so fun for pets across the UK. The RSPCA estimates that 45% of dogs show signs of fear when there are fireworks. You can try these steps to help calm your dog during fireworks:
Give your pet a safe space. Somewhere with some shelter, blankets and their favourite toy where they will feel calm.
Walk your dog during daylight hours to avoid being outside when fireworks are being let off.
Keep your curtains and windows closed in order to drown out the loud noise.
Put on the TV, radio or some music to help cover the noise of the fireworks.
You can also try pheromone diffusers which spray calming chemicals to soothe your dog.