A brief history of Crufts
When did Crufts start and how has Crufts changed over the years?
In 2022, the Crufts dog show celebrates its 131st year. The international dog show started in 1891 by Charles Cruft, a travelling dog biscuit salesman. Yet despite its age, Crufts is still regarded with prestige and renown, with people travelling from all around the world to see some of the best dogs compete.
How did Crufts begin?
Charles Cruft had some past experience working in dog shows, helping to promote the canine section at the Paris exhibition in 1889. His first show was held in London at the Albert Hall in Islington and was considered a huge success. At this point, the show was called 'Cruft's Greatest Dog Show' and had over 2,500 entries. It was so popular that even Queen Victoria herself entered her dogs into the competition, winning three categories, including first prize for her Pomeranian Gena.
The history of Crufts
In 1928, Crufts added the famous Best in Show category. The very first winner of this prestigious award was a Greyhound named Primeley Sceptre, owned by Herbert Whitley, the founder of Paignton Zoo. Since then this has become one of the most sought-after prizes at Crufts, with many different owners and their prize dogs competing for a chance at winning this prestigious award.
The event continued to grow, with over 10,000 entries and 80 different breeds attending in 1936. To celebrate this momentous occasion, Charles Cruft decided to name that year's show as the 'Jubilee Show'. Yet the Second World War would interrupt Crufts, and another show would not happen until 1948. Unfortunately, by this time, Charles Cruft had passed away in 1938, and his wife had sold the show to The Kennel Club in 1942 who have organised Crufts ever since.
Under its new owners Crufts continued to flourish, with the 1950 show appearing on television sets around the country thanks to the BBC. Five years later the show would introduce crossbreeds, increasing the number of breeds who could enter. This proved to be a hugely popular move and the 1959 show would break a new record with over 13,200 entrants that year.
The 1960s saw a trend reappear for the first time in several years. Three separate Terriers won Best in Show for three consecutive years, this narrowly missed besting Gundogs for the title of most consecutive group wins, with the Gundog group winning for four years in a row from 1930. This rivalry is still alive even today, with the Gundog group having won 23 awards, and the Terrier group only just behind on 21 awards.
In 1979 the show moved to the Earls Court exhibition centre due to the increasing number of entries and guests. To help accommodate this rise in attendees the show's length was increased to three days in 1982, and then to four days in 1987.
Since then it has continued to grow, and since 1991 Crufts has been held at the National Exhibition Centre in Birmingham. It was in 1991 that Crufts was officially named by the famed Guinness Book of World Records as the largest dog show, with over 22,973 dogs entering the competition that year. It also sees a huge number of guests attending, with on average over 160,000 visitors attending each year.
In terms of television, Crufts was televised every year from 1950 to 2008. Yet in 2009 it could only be viewed online, upsetting many people. Thankfully from 2010 the show has been shown on More4 every year and attracts over five million viewers, and is considered a successful cultural event.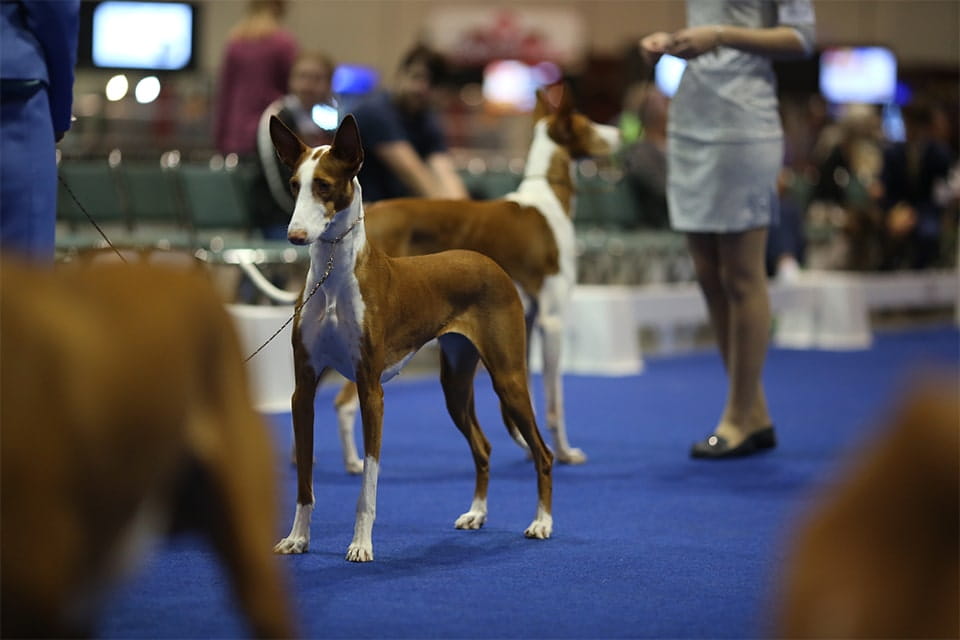 An Ibizan Hound on show.
Crufts' success stories
Speaking of success stories, the most successful owner to compete in Crufts is a Mr H.S Lloyd, whose award-winning English Cocker Spaniels won Best in Show 6 times. His first win was in 1930, but he also won a second time in 1931, both times were with a Cocker Spaniel named Luckystar of Wave. Lloyd and his spaniels wouldn't win Best in Show again until later that decade in 1938. He and his dog Exquisite Model of Ware also won the following year in 1939. Unfortunately, this would be the last Crufts show to be held until 1948 due to the outbreak of the Second World War. Yet amazingly, H.S Lloyd would come back in 1948 and 1950 and win Best in Show for a fifth and sixth time, both with a dog called Tracey Witch of Ware.
H.S Lloyd's daughter, Jennifer Lloyd Carey, would continue the family legacy, earning the title of Cruft's longest competitor. In fact, winning Crufts has been in the family for three separate generations, and H.S Lloyd's father, Richard Lloyd winning a prize at the very first Crufts in 1891. Jennifer meanwhile has participated in Crufts for over 60 years, starting in 1948 at the age of 11. It is the Lloyd family's involvement that has helped make English Cocker Spaniels one of the most popular breeds at Crufts, winning Best in Show over 10 times.
The last five winners of the Best in Show award are:
• 2015 - Mcvan's To Russia With Love (Scottish Terrier from America)
• 2016 - Burneze Geordie Girl (West Highland White Terrier from England)
• 2017 - Afterglow Miami Ink (American Cocker Spaniel from England)
• 2018 - Collooney Tartan Tease (Whippet from England)
• 2019 - Planet Waves Forever Young Daydream Believers (Papillon from Belgium)
Crufts is the most popular and successful dog show in the world, with people flying in from all across the globe to both enter their beloved pets, or to simply watch all the various dog breeds compete. It's a fantastic event with an extremely prestigious history.