Buying a new puppy checklist
Everything you need to know before buying a puppy!
There are few things more exciting than getting a puppy. It doesn't matter if you've owned dogs before or if you're a first-time puppy owner, welcoming a new four-legged friend into your home is something to look forward to!
Before your puppy comes home for the first time though, you'll want to know that you've got everything sorted. Use this handy checklist to make sure that you're suitably prepared for your pup!
Puppy toys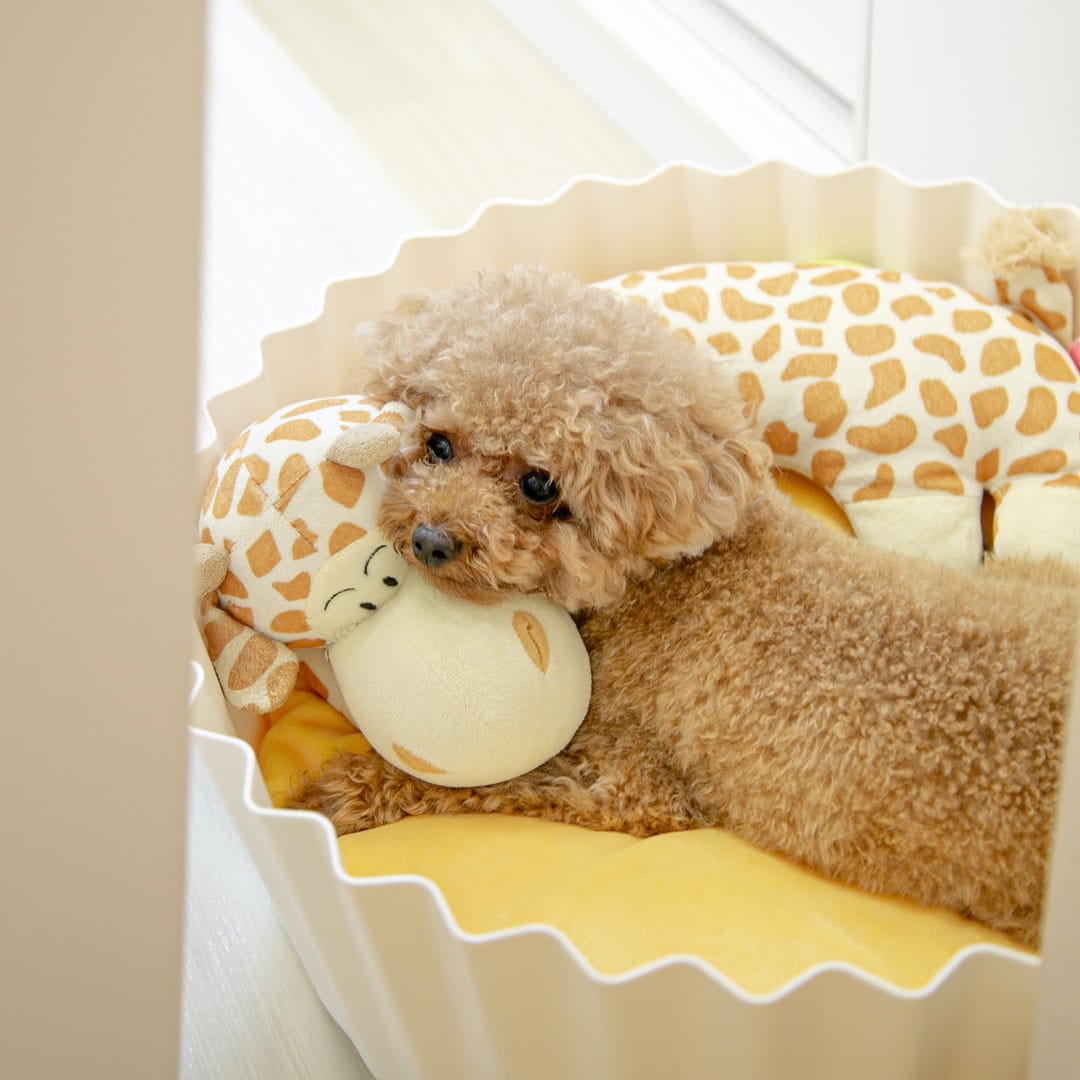 Help your new puppy settle into your home with plenty of puppy toys. No matter what breed of dog you have, puppies are playful and inquisitive. Being in a new home for the first time might be a little daunting for your pup, so by having a stash of new puppy toys you can keep them entertained and happy. Soft plush toys are a nice, safe option while teething toys will help keep your puppy from chewing up your shoes!
Puppy food
Puppies need to be fed the right kind of food to help them grow. Your puppy food needs to be high-quality and mindful of the fact that your puppy's stomach is much more delicate than an older dog.
How often should you feed a puppy?
In the early stages, your puppy should be fed four meals a day until they turn four months old, after that they can be fed three meals a day until they turn six months old. After your puppy turns six months old, they can be fed the usual two meals a day.
Food and water bowls
Puppies love dinner time! You need to make sure that your puppy has easy access to food and water, but which bowls you buy should depend on the size of your dog breed. Larger dog breeds will need larger food and water bowls, but you can always buy larger bowls as your dog grows.
Puppy bed
Much like us, your puppy needs somewhere nice and cosy to sleep at night. Puppy beds come in all shapes and sizes, from fleece-lined to memory foam. Which type of puppy bed is best for you depends on the size of your dog and how much room you have to spare. Make sure that your puppy is comfortable with their bed and have plenty of cosy puppy blankets on hand for them to sleep with.
Puppy collar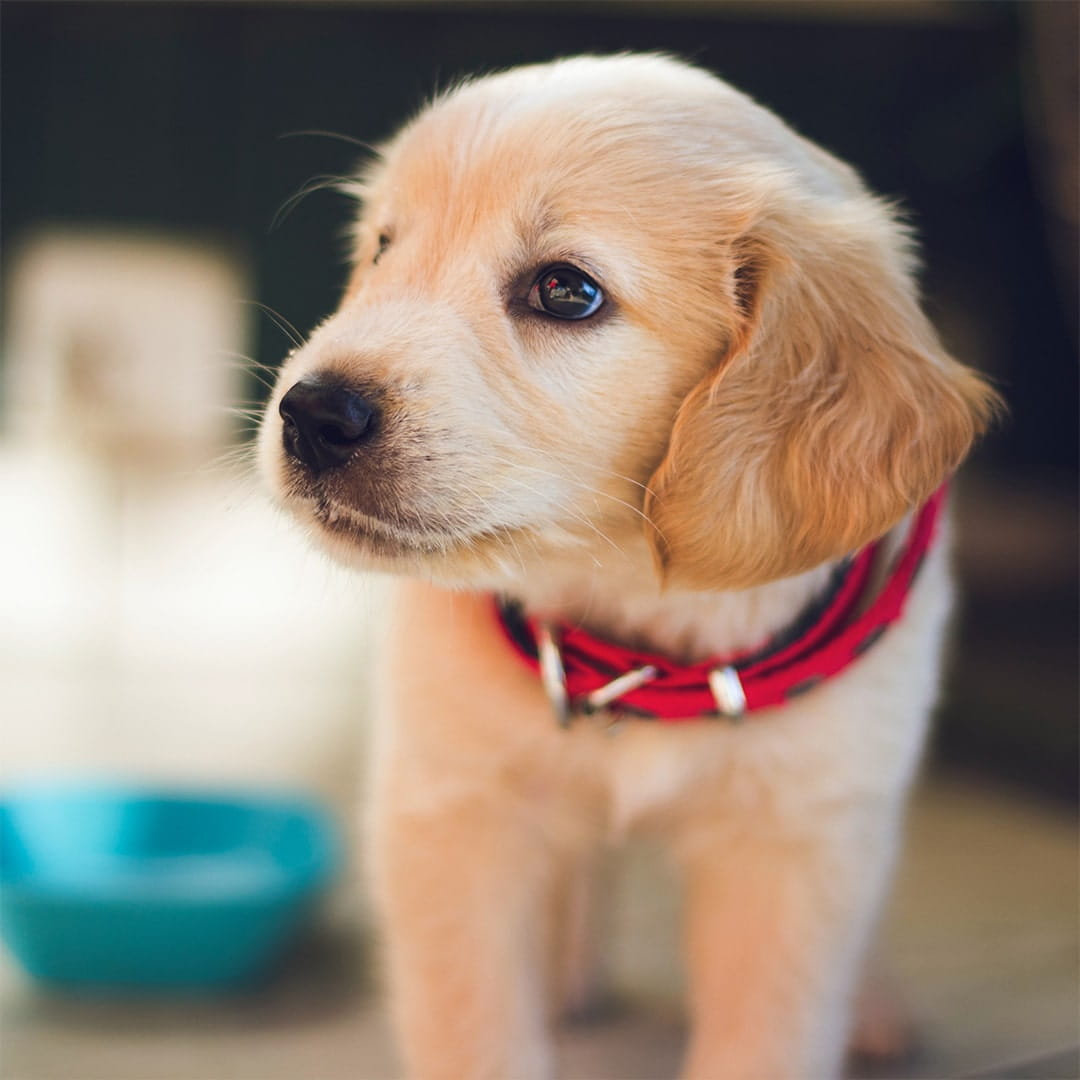 If your puppy isn't fully vaccinated, then they shouldn't leave the home. One you're allowed to take your puppy elsewhere though, you'll need to make sure that they have their own collar. Your puppy may have their own collar when you first pick them up, but they will grow out of this quickly!
Adjustable dog collars make it easier to keep up with your puppy's growth.
Flea and worm treatment
Puppies can be susceptible to catching nasty bugs, illnesses, fleas and worms. In order to help prevent your puppy from catching worms or fleas, they should be put on a course of regular treatment.
How often should you flea and worm a puppy?
Many flea and worm treatments aren't suitable to use until your puppy is eight weeks old. After that, your puppy should be treated monthly, with either tablets, sprays or liquids which you can do from home.
Your vet will be able to advise you on the best course of flea and worm treatments after your first appointment with your puppy.
ID tag
Once your puppy is able to safely go outside, they will need an ID tag to help identify them. According to UK law, dogs should wear an ID tag when out in public. Your puppy's tag should include:
It may not be a good idea to include your puppy's name on their ID tag. Many dog owners don't put their pooch's name on their tag in case thieves are able to identify your dog and claim ownership.
Puppy crate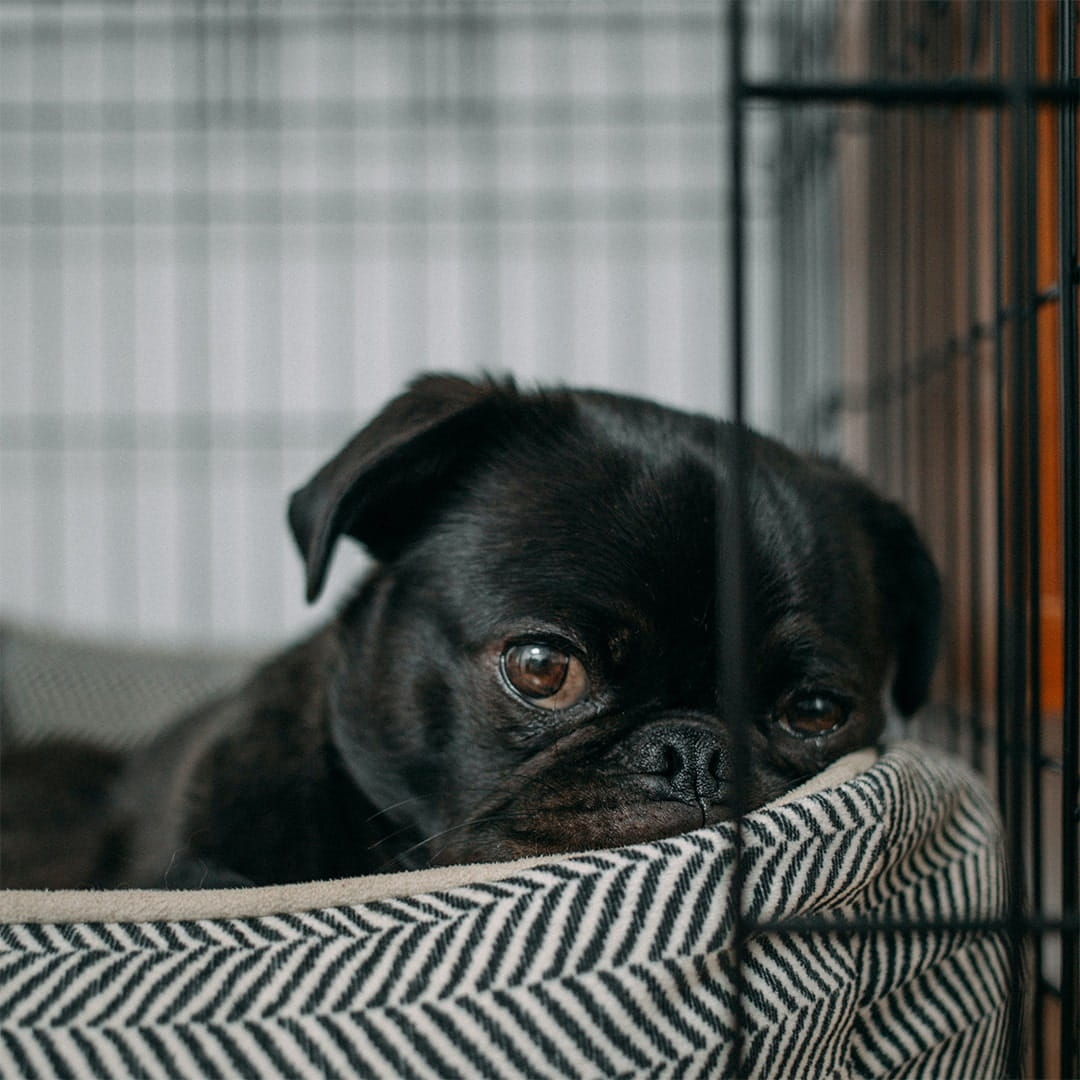 Lots of dog owners will want to get their puppy used to a crate when they first come home. You can train your puppy to get used to their crate by:
Letting your puppy get comfortable and used to their crate.

Place food or treats in your puppy's crate.

Keep the crate door open during the day to encourage your puppy inside.

Close the door once your puppy is inside and leave it closed for increasingly longer periods.
You may find that you need to buy larger crates as your puppy grows.
Puppy insurance
Get specialist puppy insurance to help cover the costs of vet fees and more. At petGuard, we have over 37 years of experience protecting the UK's cats and dogs with flexible cover that means your claims can be paid straight to your vet! Benefits of our cover include:
Interest-free monthly payments.

Free 24/7 access to FirstVet video consultation.

Up to £12,000 annual vet fee cover.

Cover for long-term and chronic conditions.

15% discount for new customers!
You can find out more about our puppy insurance and get a quote, right here.